Positive & Negative Effects on the Global Music Industry from COVID-19
Emily Ann Peterson here! I took our COVID-19 lockdown as my opportunity to take a break from a part-time music career to pursue a Master of Business Administration and a graduate minor in Gender & Women's Studies. I'm focusing my studies on the topics of coercive control, psychological marketing practices, and the power of (cult) influence. But sometimes my music industry credentials still sneak into things—once a songwriter, always a songwriter!

I thought y'all might appreciate peeking into what I've been up to lately. Below is an assignment I wrote in January 2021 for my class on Global Business Environments. (A+ huzzah!) For those of you already in the music industry, some of this might be obvious, but there might be a few glimmers of hope in here for you too.

Oh, and please pardon the formality of my academic writing style, I'm usually much more "casual" with my blog writing! ;-)
---
An East Nashville songwriter & MBA student weighs in on...
A Look at Two Segments of the Global Music Industry: Live Concerts & Country Music
It's no surprise that COVID-19 has rocked our world, but it's not been all bad. In this write-up, I outline two areas of the global music industry with altering effects from COVID-19's global pandemic: Live concerts & venues, and the genre of country music.
Global Live Concerts & Venues Industry
(Negatively Affected by COVID-19)

screenshot from rebuilding-europe.eu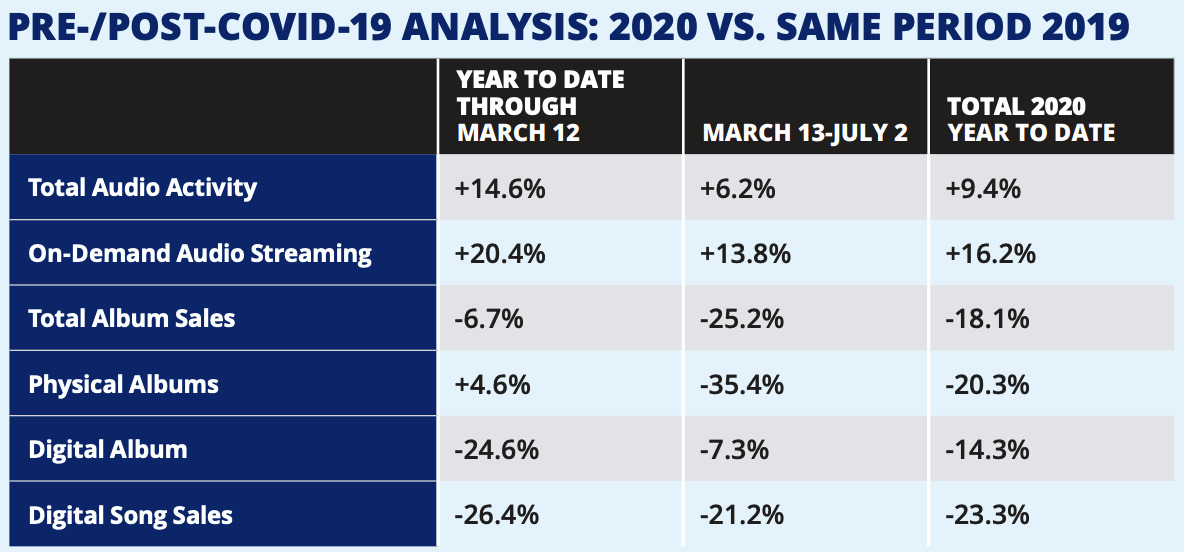 graphic from AppleInsider
Country Music Genre
(Positively Affected by COVID-19)
Direct Effects - Due to employees working from home and not listening to music during commutes, the growth of music streaming services has halved, yet risen overall by 20%. Streaming media, in general, had an increase from the pandemic from more people staying at home with extra free-time. But the music genre that has the most growth, is country music. Execs at Spotify point to music listeners seeking comfort, nostalgia, and normalcy during a time that feels far beyond normal. Goldman-Sachs confirms that music listeners are turning to "music that they already know and makes them feel positive".
Indirect Effects - Not all businesses get the luxury of capitalizing on this escapism. Some musicians previously signed to record labels are being dropped and being forced to seek alternative methods of accessing their growing fanbase. Many musicians are turning to donation-based livestream concerts from their living room.  
Global Effects - Time Magazine reported that the "on Spotify, country has been the second-fastest-growing genre of music globally since February (behind electronic), with most of its gains made in the U.S. and Canada." Some of the musicians who've sought alternative sources of income (due to the lack of corporate support or inability to tour) are finding great success internationally. Using online platforms, they can reach a global audience from the comfort of their pajamas and home. Lauren Jenkins is one of these musicians. She says, "A lot of my fans in Europe and the UK are the way I'm paying my bills right now... From what I've seen, I could do [perform a livestream concert] every single day of the week and the same people would tune in—and I'm seeing new people I've never met tune in and come back every time."
PS - This is a fascinating 20-min presentation from Marc Lhermitte on the EY study titled "Rebuilding Europe: The Cultural and Creative Industries Before and After COVID-19":
References
Angry Fans Say First the Concerts Were Canceled, Then the Refunds. (2020, April 8). The New York Times - Breaking News, US News, World News and Videos. 
Aswad, J. (2021, January 11). Dr. Fauci Says Concert Venues, Theaters Could Reopen in the Fall. Variety. 
Inside the Brexit Effect on European Concert Tours. (n.d.). Billboard. 
Livestreaming Competition Grows With Live Nation Entry. (n.d.). Billboard. 
Meredith, S. (2020, May 20). Coronavirus: Music industry to nearly double in value by 2030, Goldman Sachs says. CNBC; https://www.facebook.com/cnbc. 
Music in the Air: The Show Must Go On. (n.d.). Goldman Sachs. 
Music streaming traffic rose 20% during COVID-19 but growth has now halved. (n.d.). WARC | Make Your Marketing Effective. 
Small Clubs Are Where Rock History Is Made. How Many Will Survive?. (2020, May 6). The New York Times - Breaking News, US News, Independent Venues Coronavirus. World News and Videos. 
Steele, A. (2021, January 26). Dormant Live-Music Industry Offers Biden Help With Vaccine Rollout. WSJ
Why Country Music Is Thriving During the COVID-19 Pandemic. (n.d.). Time.
Want to schedule a coffee chat?